Camplified Hits the Road with Roland
By Corey Fournier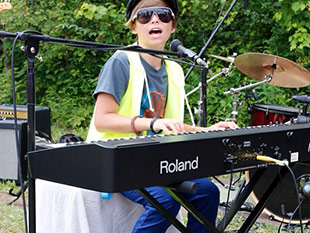 In its 12th year of providing musical entertainment and education to summer camps across the country, Camplified is powering their 2013 tour with Roland gear. For the past several weeks, bands like Alabama Capital, Audio Revival, and The New Velvet have performed at over 35 camps and give students an up-close experience with their music and the tools they use to make it.
They may be the next big thing, but the artists that perform on the Camplified tour aren't too cool for school. These burgeoning rock stars are also teachers, showing the campers how to play instruments and develop musical skills. Roland is a partner in their pursuit, providing the latest in musical instrument technology for the next generation of guitarists, keyboardists, vocalists, and drummers.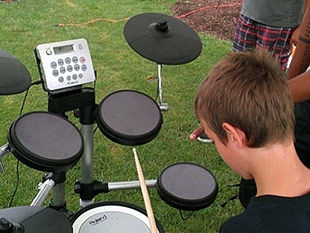 The line-up for this summer features artists from across the globe and sonic spectrum, including bands like Cover Drive from Barbados and former Cirque du Soleil singer, Ali Isabella. "The Camplified line-up is a great mix of talent this year from acts who've opened for Rihanna to bands with chart-topping hits in the UK," exclaims Aimee Berger, Founder of Camplified Tour. "We're also integrating the rising fad of Electronic Dance Music by adding our first ever DJ on tour this summer. I can't wait for campers to get this backstage pass and meet these rising stars as well as experience music making with all the Roland products on board this year."
"Camplifiers" get to try their hand at amplifiers and an assortment of instruments with guidance from their mentor musicians. Guitarists get to plug into Roland's CUBE Lite amps and interact with their favorite music using the CUBE JAM iOS app. Vocalizing is encouraged and campers learn to sing in-tune and in-time with the VT-12 Vocal Trainer. If they like to keep the beat, they get to do it on the HD-3 V-Drums Lite kit. And at Camplified, no one sits or stands when learning keyboard — they dance, while playing the Lucina AX-09!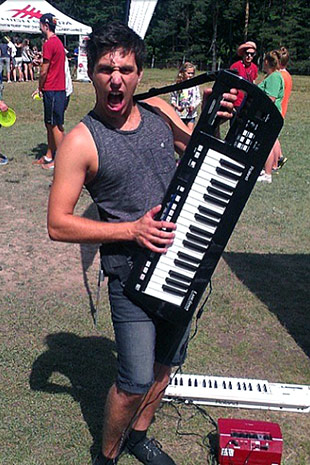 "We set-up a big tent at each camp with V-Drums, Cube Lite amps, YouRock and Epiphone guitars, Lucina keytars, and VT-12s," explains Camplified tour manager, Anthony Natoli. "The artists interact with the campers during the afternoon and show them how to sing and play the instruments. The HD-3 is a huge hit because the kids get to learn how to play drums on an actual drum kit and jam with the other instruments without drowning them out. Ali shows the kids how to sing and keep a steady pitch with the VT-12 while she teaches them new songs. Everyone gets to try each instrument and jam with the artists — it's really amazing what these kids get to experience!"
For some of these young students, it's their first opportunity to play a guitar or hold a pair of drumsticks, much less jam with a professional musician and see them perform in a real concert. "It's so amazing to meet these kids and introduce them to playing an instrument," says Barry Hill, guitarist and keytarist for Cover Drive who recently had a #1 hit song in England and played Wembley Stadium. "It's an honor for us to be a part of one of their earliest musical experiences and see their excitement as they learn to play. I remember when I got my hands on a guitar for the first time and it changed my life. Everyday we get to give that opportunity back to hundreds of kids — how cool is that?!"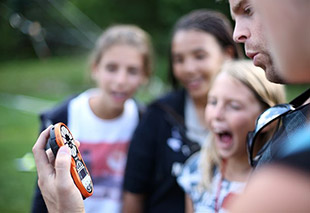 Traveling throughout the country to a new camp every day takes a lot of energy and coordination, and is not without its challenges — especially when you consider that the activities are mainly outdoors and weather can be unpredictable. "We always do our best to safeguard the gear, but sometimes it's impossible to keep everything inside the tent and off the ground," says Camplified asst. tour manager, Ashley Bodily. "But even with all the heavy use and constant moving, the Roland gear has been totally solid. I'll be honest, we've had a few accidental bumps, but the gear hasn't failed us once. I would tell any teacher, if there's anything that is built to stand-up to rigorous conditions, it's Roland."
Check the Camplified website for more info and tour dates www.camplified.com/Main/Press.
And be sure to follow us on Facebook and Twitter for the latest photos and videos.