Roland Hosts First-Ever National Piano Festival
26 Contestants Vied for Top Honors
By Ellen Gonzales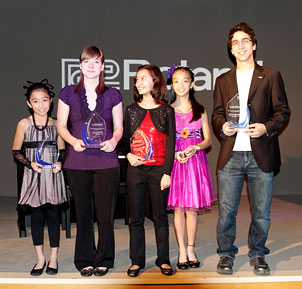 Students from around the country recently took part in the first-ever Roland National Piano Festival. Held on Saturday, November 13, 2010, in the state-of-the-art Media Center at Roland's Los Angeles headquarters, 26 contestants vied for top honors before a panel of celebrity judges. Winners were crowned in four performance divisions. But, the preparation started long before…
The brain child of Simon Robinson, Product Manager for Roland's Piano and Specialty Keyboards, the Roland Piano Festival was created to provide an opportunity for players of all ages to showcase their talents in a fun and creative environment. Says Simon, "We wanted to create an event that reaches people who may not feel comfortable participating in a typical recital or guild competition.". Six Roland Piano Dealerships were chosen to test market the program in select cities nationwide, including Austin, Dallas, Louisville, Seattle, Salt Lake City and Wilkes-Barre, PA. All participants performed on the Roland RM-700 Digital Piano and each dealership in turn worked with their local piano instructors to provide them with the proper instrument, as well as to provide training and support.
For months the teachers and students prepared their selections in anticipation of the local events held throughout October. Over 300 students performed a wide range of songs and styles in the select cities before a panel of judges provided by Roland. The performers were judged not only on their playing prowess and technique, but also on their ability to introduce orchestration and interpretation into their playing in creative ways. Finalists were then selected to represent the local markets in the performance divisions, including Youth 1 (ages 9 and under), Youth 2 (ages 10-13), Youth 3 (ages 14-17) and Adult (ages 18 and older). Each finalist was then given an all-expense paid trip to Los Angeles and the opportunity to continue on to the National Piano Festival Finals.
The stakes were higher in Los Angeles as the finalists performed their pieces again for the celebrity panel of judges, which included National Recording Artists David Benoit and Yana Reznik, as well as world renowned Musical Director Paul Mirkovich. Mr. Benoit also treated the finalists and their guests to a special performance that included his trademark "Linus and Lucy." The first Roland National Piano Festival winners included Maddy Magana of Maple Valley, WA , for Youth 1; McKenzie Fysh of Renton, WA, for Youth 2 ; Keenan Monks of Hazelton, PA for Youth 3; and Nicole Ventresca of Bellingham, WA, who won in the Adult division. And while not everyone could be selected the top performer, all the participants went home feeling like winners. Says Teresa Johnson, mother of a Youth 1 participant, "Sydney had the time of her life and met so many great people…this experience will be something that she and I will treasure for years to come. This has inspired Sydney to play hard and to focus on what she may be able to accomplish in life through music." We couldn't have said it better!
Stay tuned to future editions of The Educator for information on how you can participate in our Roland Piano Festival 2011.